THE PERFECT ACCESSORY FOR YOUR SPRING WARDROBE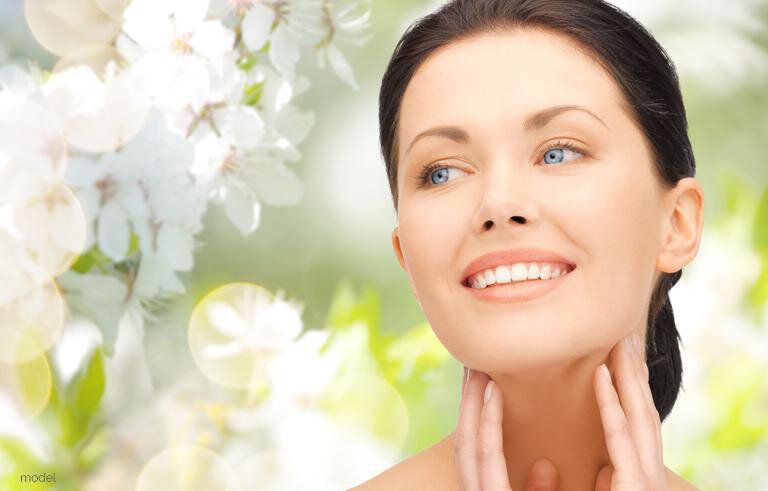 Spring is officially here! Say goodbye to winter coats and turtlenecks. Spring weather means embracing lighter clothing and lower necklines. Do you know what the perfect accessory is for your brand-new spring wardrobe? A smooth and youthful neck! If you're self-conscious about the state of your neck, then it's time to book a consultation appointment with board-certified cosmetic surgeon Dr. Anthony J. Geroulis to learn more about facelift and neck lift surgery.
As a clinical professor of surgery at University of Chicago Medicine, Dr. Geroulis teaches the latest surgical techniques to other surgeons. Additionally, Dr. Geroulis is an accomplished sculptor and recently completed his first bronze sculpture of a head and neck of an American Indian, entitled "The Warrior." Dr. Geroulis has been operating for over 30 years and specializes in facelift surgery, which addresses the lower third of the face and neck region. There are actually many types of facelift procedures, and Dr. Geroulis determines his exact course of action after performing a detailed facial analysis of each patient. For example, Dr. Geroulis can perform a traditional full facelift, mini lift, or mid facelift. There are also numerous techniques he can utilize during the facelift procedure, such as the endoscopic lift, SMAS Lift, deep plane or subperiosteal lift. Regardless of which method is employed, the key to a successful facelift is achieving the most natural results possible.
It is important to remember that everyone ages (unfortunately!), but the rate at which this process occurs varies by individual. Eventually, all men and women will notice the effects of aging on their face and neck regions. Many men and women experience substantial signs of aging on their neck. This means that jowls, excess skin below the jaw line, develop and there is an abundance of sagging, loose skin. In these cases, Dr. Geroulis might also perform a corsetplasty, sometimes referred to as a corset neck lift, in addition to the facelift procedure. Chicago-based surgeon Dr. Geroulis performs this procedure by sewing the platysma bands of the neck together. Unlike prior neck lift procedures, no muscle is removed during this specialized procedure. The corset neck lift is an excellent complement to facelift surgery if Dr. Geroulis needs to address excess lax skin in both the lower face and neck regions.
A smooth, beautiful and youthful neck is the perfect accessory to any outfit. You deserve to feel confident this spring! If you're worried about facelift surgery timing, remember that it's not too late to be summer wardrobe ready! Spring surgery dates are still available. Call 866.875.3937 to book a consultation appointment with Dr. Geroulis at one of his medical office locations in Chicago, Hoffman Estates or Northfield. All facelift surgeries are performed at Dr. Geroulis' outpatient medical facility, North Shore Center for Facial Plastic & Cosmetic Surgery. Don't wait; book your appointment to learn more about facelift surgery!