SNAPCHAT AND PLASTIC SURGERY?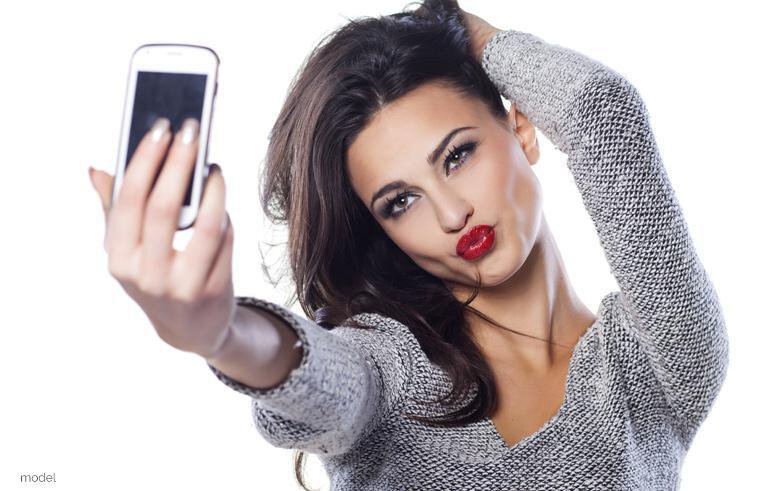 You may be asking yourself what Snapchat and the world of plastic surgery have in common. Well, that's a very fair question. For those of you who don't know about Snapchat: it's a mobile messaging application used to share photos, videos, text and drawings. It's most commonly used among friends but many brands have begun to use it as a way of promoting their products. What may surprise you even more is that many plastic surgeons have begun using it, as well. While board-certified cosmetic surgeon Dr. Anthony J. Geroulis isn't utilizing the popular application, it is a very interesting (and highly debated) trend that is worth learning more about.
So, how exactly is it used? It's no secret that men and women are fascinated by cosmetic surgery. Popular television shows that feature patients undergoing surgery, from eyelid surgery to facelift procedures, have made that fact abundantly clear. However, those television shows are just a glimpse into the world of cosmetic surgery. Many surgeons are using the application for educational and promotional purposes; whereas, it is clear that others are using Snapchat for fame. Some surgeons have even hired social media assistants who are solely dedicated to managing these accounts. Once patients give consent, surgeons are filming their surgeries, from lower eyelid surgeries to rhinoplasty procedures, and sharing the footage with their Snapchat followers. Clearly not for the faint of heart, these graphic videos are demonstrating to men and women what it is really like to be inside an operating room.
Many surgeons are offended by this trend and feel that posting footage of a procedure, such as an upper eyelid surgery or a facelift procedure, to social media is crossing a line. While it might not be a direct question of morality, since these patients have consented, it is certainly unchartered territory in the medical world. Many cosmetic surgeons' offices use social media as a tool to promote their services and gain new business. However, posting Snapchat videos of surgery is certainly a different ballgame. New trends and ideas find their way into the realm of cosmetic surgery every day, and it is for each surgeon to decide how they will navigate the murky waters.
As a clinical professor of surgery at University of Chicago Medicine, Dr. Geroulis teaches the latest surgical techniques for many procedures, including upper and lower eyelid surgery, to other surgeons. Dr. Geroulis has been operating for more than 30 years and is no stranger to the ebb and flow of new trends in the industry. While some are worthwhile, others fade away over time. It's difficult to say exactly what will come of the Snapchat trend in the operating room; however, it is clear that social media will continue to become a larger part of most industries, plastic surgery included.
To learn more about cosmetic surgery, including facelift surgery and lower eyelid surgery, book an appointment with Dr. Geroulis at one of his medical office locations, which are located Chicago, Hoffman Estates and Northfield. Call 866.875.3937 to book your consultation appointment. All surgeries are performed at Dr. Geroulis' outpatient medical facility, North Shore Center for Facial Plastic & Cosmetic Surgery. Don't wait; book now to learn more.